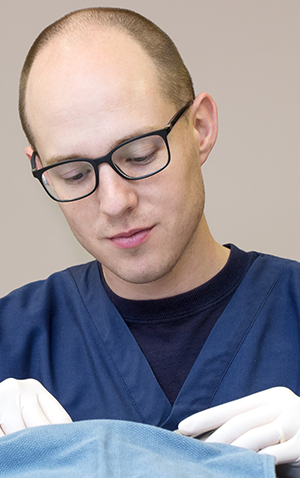 Dr. Adam Wright has earned the highest degree of qualification in Mohs surgery by completing an ACMS approved fellowship in micrographic surgery and dermatologic oncology at the Mayo Clinic. Mohs surgery, also called Mohs micrographic surgery, is a specialized surgical technique for removing skin cancer. Dr. Frederic Mohs developed the technique in the 1930s, and it has been modified and refined over the years. It is the treatment of choice for many skin cancers and offers the following advantages:
Highest cure rate: The tissue is prepared, mapped, and examined in our lab, allowing for microscopic evaluation of 100% of the deep and peripheral margins in order to precisely remove all of the cancerous cells.

Best cosmetic result: There is no need to take a large margin of healthy skin in Mohs surgery; therefore, the size of the wound left after tumor removal is minimized. Keeping this defect small optimizes the surgical repair and produces a superior cosmetic result.
Read more about Mohs surgery by clicking here or reading the Frequently Asked Questions listed below.
FREQUENTLY ASKED QUESTIONS
What is Mohs Surgery?
makememodern
2017-11-07T19:45:52-05:00
Mohs surgery is commonly performed to treat non-melanoma skin cancers (basal cell carcinoma, squamous cell carcinoma, and many others). Additionally, our laboratory utilizes special immunohistochemical stains to treat thin melanomas as well.
Mohs surgery is an outpatient procedure that is performed under local anesthesia; therefore, the risks associated with prolonged general anesthesia are avoided. Before the surgery begins, a small needle is used to place the numbing medicine in the area surrounding the skin cancer. The surgeon then removes the obvious skin cancer that can be seen with the unaided eye. Next, a very thin saucer-shaped layer of normal appearing skin is removed taking special care to map the tissue. The tissue is then processed by the laboratory located in our office and a detailed map is constructed – a process that takes approximately 60-120 minutes. Microscopic slides are prepared and then examined by the surgeon to determine if the cancer is persistent.
If microscopic examination reveals remaining tumor at the margin, then further tumor excision is required. After returning to the surgical suite, additional anesthetic is injected to reinforce the initial injection. In most cases, the area is still numb and little to no discomfort is felt. Another layer of tissue is then removed – only where the map indicated residual cancer. This tissue is again brought to the laboratory, and the process is repeated until all cancer is removed. Once all the cancer has been removed, we will then discuss the options to reconstruct the resulting defect or open wound. This usually requires stitches.
Because the number of stages (or layers) involved with each case is unpredictable, it is impossible to know how long the surgery will take. For this reason, it is important for patients to plan on spending the entire day with us, although most patients are only in the office for half of a day. Do not be discouraged if the cancer is not removed in one step since tracing of the cancerous roots of the tumor is conducted in small layers. Bring a good book and whatever else will help keep you comfortable while you are with us.
I was so pleased with everything. Dr. Wright is such a nice person and wonderful doctor. Brittany was so pleasant and friendly. They offer blankets and pillows and make sure throughout the entire procedure that you are comfortable and that you are as pain free as possible. Everything went well and they go out of their way to make it so.
I had a recurring dermatological condition for several and a series of dermatologists as a result. And yet until I met Dr. Wright, my condition remained undiagnosed and it turned out to be potentially life-threatening. I am so fortunate to have found him and I would not go to anyone else and recommend him often.
What a great experience! I was greeted promptly and courteously by the front desk staff. I was seen almost immediately and treated with care and concern by both Devon and Dr. Wright. I will certainly make KID my home for dermatology and would highly recommend them to everyone.
Dr. Adam Wright took his time to explain the procedure, perform the surgery, and teach how to care for wound afterwards. I have found few physicians take such time with their patients and I am a registered nurse.
Dr. Wright listens, answers questions, gives understandable explanations, presents options. I consider him an outstanding physician, and his nurse is also excellent. The use of technology is also very good. BTW, my rating on the facility pertains to the Lenoir City location. I would rate the Knoxville location Excellent.
I tend to avoid doctors if I can. And I have never left a review for any medical person or facility. But Dr. Wright made some uncomfortable symptoms easy to discuss and then was able to offer excellent options for resolving those issues. I would send anyone I care about to see him for any sort of skin-related complaint. He is the best!
This was my first visit with Knoxville Institute of Dermatology, and my first visit with Dr. Wright. Dr. Wright seems like a very knowledgeable, caring doctor, who explains things well, and seems to care very much for his patients. I already have an appointment in a year to see Dr. Wright again for a check up. Since I live in Crossville it is also much more convenient to be able to see him at the Lenoir City office.
Thank you for the convenience of visiting this office in Lenoir City rather than going out of town. I received a thorough examination and treatment. I received reference material about the condition to read at home. Dr. Wright took the time to welcome me back and offer to help anytime. Who does that? I appreciate all of this. I have found myself a new dermatology center!
MAKE AN APPOINTMENT
We're excited to work with you, find a solution to your skin care needs and give you the results you deserve. Fill out the form below and someone will contact shortly to schedule your appointment.